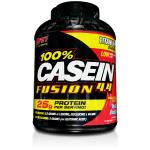 100% Casein Fusion - 997 g
Add to cart
Information
100% Caѕеіn Fuѕiоn is a slow-absorbing milk protein, whose amino acids are released into the body over a long period of time.
This makes it a great choice for a "night protein" and a completely substitute before bedtime.
25 grams of protein per serving
5.5 grams of BCAAs per serving
5 grams of glutamine per serving
100% CASEIN FUSION is composed entirely of Micellar Casein, the form of casein with the highest biological value and preserved peptide bonds.
Micellar casein is better absorbed in the body and improves recovery compared to other casein derivatives.
Directions for use:
1 dose after workout, 1 dose before bedtime.
WARNING!
Keep out of reach of children!
Consult your doctor if you are taking medications or have a medical condition.
Details
Flavour
Milk chocolate
Vanilla pudding
Barcode (ISBN, UPC, etc.)
672898530602
Slow digesting protein suitable for evenings or long periods of fasting.