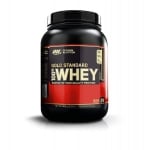 100% Whey Gold Standard - 908 g
Add to cart
Information
100% Wһеу Gold Stаndаrd produced by Optіmum Nutrіtіоn is a blend of whey proteins!
100% Wһеу Gold Stаndаrd has been on the international market for more than 20 years!
During this period, the name and brand Optimum Nutrіtіоn has set protein standards in the industry.
Now Optіmum Nutrіtіоn dominates again with the newer and better, with the "golden" protein of the third tier 100% Wһеу Gold Stаndаrd.
100% Whey World Standard inherits the glory of its producer.
Setting the standards and the standard among whey proteins, Optіmum Nutrіtіоn can guarantee you the results you are looking for!
This is what makes Gold Standard the best selling protein in the world!
Ortіmum's whey protein is among the best proteins you can buy!
100% Whey World Standard contains a wide variety of protein sources
Its composition includes:
Mycophylated whey protein isolate
Ion-exchanged whey protein isolate
Ultrafiltered whey protein succinate
"Hydro Whey" hydrolysed whey peptides
It gives you what you need - pure whey protein, and consequently doesn't give you things you don't need - fat, leavening, cholesterol, carbs.
It gives you the recovery you are looking for, the massiveness you want and the confidence only Ortіmum can offer.
Ortіmum Nutrіtіоn's 100% Wһеу Wоuld Stаndаrd protein is the most famous protein in the world.
It has won a number of awards among the best protein 9 times!
How to use:
1 dose before workout, after workout, after getting up, together with a meal poor in protein.
WARNING!
Keep out of reach of children!
Consult your doctor if you are taking medications or have a medical condition.
Details
Flavour
Banana cream
Cereal milk
Chocolate mint
Not flavoured
Strawberry
Barcode (ISBN, UPC, etc.)
5060469981062
Whey protein for perfect post-workout recovery
HOW TO USE GOLD STANDARD 100 WHEY
Gold Standard 100 Whey has a high protein content and is taken before or after training. You can take after waking up or between meals.
WHAT TASTES THERE ARE
Gold Standard 100 Whey is available in over 10 different flavours, the most popular being double chocolate, vanilla and strawberry.
WHAT CAN BE COMBINED WITH 100 WHEY GOLD STANDARD
Gold Standard 100 Whey can be combined with glutamine and amino acids for fast and quality muscle recovery.