Acai 500 mg - 100 capsules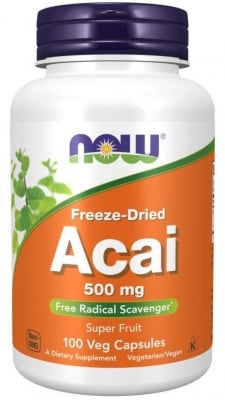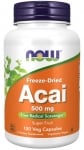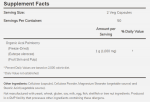 Add to Favorites
Your favourite products
Pack: 100 capsules
Manufacturer: NOW FOODS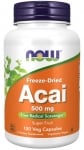 Acai 500 mg - 100 capsules
Add to cart
Information
What is Acai ?
Acai are one of the most remarkable and nutritious fruits on earth.
The fruit of the Aĸai palm tree contains a significant amount of Vitamin C and is an excellent source of polyphenols, including rutin, atexins and anthocyanins.
All of these ingredients are powerful antioxidants, which when combined together build a robust defense against free radicals and toxins, a key factor in slowing the aging process.
These ingredients also strengthen the immune system, have strong anti-inflammatory properties through their pronounced modulating effect on nitric oxide production.
The palm fronds of the acai palm tree significantly support the heart and blood vessels.
NOW uses only dried and frozen raw material, without preservatives and solvents, to ensure the preservation of the ingredients in the raw material.
What are the health benefits of taking NOW - Acai ?
The universal benefits of Aĸai on the human body are the reason why the fruit of this palm has been called a "super food".
The reasons why you should include Acai in your diet are:
To lose excess weight
To control your blood sugar
To prevent and destroy infections
To regulate cholesterol levels
To prevent cancer formations
To help the prostate gland function
Promotes the health of the cardiovascular system
To boost energy and stamina
To increase sexual function
Slow aging
Usage:
WARNING!
Keep out of reach of children!
Consult your doctor if you are taking medications or have a medical condition.
Details
Barcode (ISBN, UPC, etc.)
733739033550
Acai capsules is a fat burning and blood sugar controlling product for daily intake.