Acetyl L-Carnitine 500 mg - 100 capsules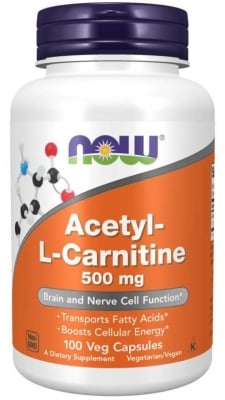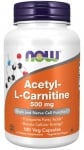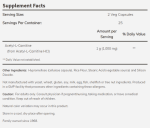 Add to Favorites
Your favourite products
Pack: 100 capsules
Manufacturer: NOW FOODS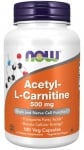 Acetyl L-Carnitine 500 mg - 100 capsules
Add to cart
Information
What is Acetyl L-Carnitine ?
Acetyl L-Carnitine is a derivative of L-Carnitine, whose role in the body is to participate in the metabolism of carbohydrates and proteins, as well as transporting fats to the mitochondria.
Acetyl L-Carnitine is becoming one of the most studied compounds due to its properties to slow down aging, especially in terms of brain and nervous system degeneration.
Health benefits of taking NOW - Acetyl L-Carnitine
Daily intake of Acetyl L-Carnitine also as an adjunct to the diet, significantly reduces the development of Alzheimer's disease.
Acetyl L-Carnitine helps to prevent depressive states, also and other mental disorders.
Levels of Acetyl L-Carnitine decrease significantly with age, which is why its intake as a dietary supplement is necessary.
Usage:
One dose 30-60 minutes before workout.
In the evening before bedtime.
In the morning on an empty stomach.
Certificates for quality:
WARNING!
Keep out of reach of children!
Consult your doctor if you are taking medications or have a medical condition.
Details
Barcode (ISBN, UPC, etc.)
733739000767
Acetyl l-carnitine, which helps reduce body weight and increase concentration