ADAM Men's Vitamins - 180 tablets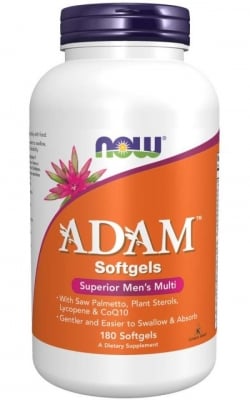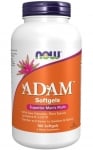 Add to Favorites
Your favourite products
Pack: 180 tablets
Manufacturer: NOW FOODS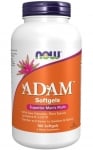 ADAM Men's Vitamins - 180 tablets
Add to cart
Information
Men's Vitamins Adam by NОW Fооdѕ is a vitamin formula specially designed for men who play sports
Men's Vitamins Adam contains a complete spectrum of:
vitamins
minerals
extracts from herbs
enzymes
These help to:
build muscles
recovery after physical stress
help to increase immune protection
increase potency.
This formula is exclusively suitable for athletes and people who are under constant physical or psychological stress.
What does the male multivitamin Adam contain ?
The herbs added to the Adam Men's Vitamins such as ginkgo biloba, saw palmetto, ginseng enhance memory and cognitive function, support cardiovascular health and healthy triglyceride and cholesterol levels in the liver, strengthen prostate and urinary function. Alpha lipoic acid is a powerful antioxidant that improves the action of insulin.
NOW-Adam also contains the vision-important lutein and lycopene, as well as enzyme Q10, responsible for normal heart activity.
NОW Fооdѕ vitamins for athletes Adаm is in powder form capsules.
This allows the nutrients in the supplement to be absorbed more quickly, avoiding to a greater extent the destructive effects of gastric juices.
Directions for use:
One capsule in the morning with food.
WARNING!
Keep out of reach of children!
Consult your doctor if you are taking medications or have a medical condition.
Details
Barcode (ISBN, UPC, etc.)
733739038814
A complex of vitamins and minerals, herbs and enzymes that help build and rebuild muscles