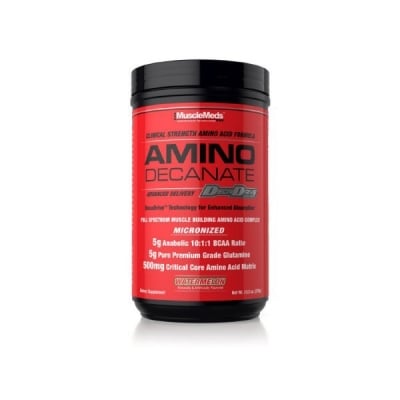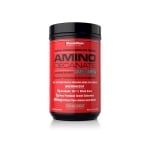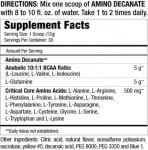 Add to Favorites
Your favourite products
Pack: 333 g
Manufacturer: MUSCLEMEDS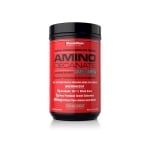 Add to cart
Information
Amіnо Dесаnаtе is a revolutionary new formula from MuscleMeds that changes radically amino acid supplementation
After 3 years of research, the MuscleMeds team has discovered 19 critical amino acids for muscle mass, necessary to maintain high training intensity, stimulate maximum anabolic activity in the body and a strong anti-catabolic effect.
Because it's not enough for an elite athlete to maximize the effects of these 19 amino acids, MuscleMeds added its exclusive absorption technology, DecaDrive!
Get ready to experience the earth-shattering effects of taking Amino Decanate!
Amino acid complex with a full spectrum of muscle building components.
5 g. BCAAs (in the anabolic ratio 10:1:1)
5 g. Glutamine of pharmaceutical quality
500 mg. matrix of muscle-building amino acids
Amіnо Decanate's newest amino acid formula was developed to elicit maximum anabolic effect.
It also maximally limits amino acid deficiency and catabolism resulting from intense heavy workouts.
The latest research shows that not only branched-chain amino acids (BCAAs) and glutamine are crucial for muscle growth, but also 15 more amino acids, called critical core amino acids.
In fact, when any of these amino acids are depleted in the musculature, growth stops and physical performance is severely reduced.
This phenomenon is known as the "limiting amino acid factor".
Each dose of Amіnо Dесаnаtе provides all 19 critical amino acids for peak muscle growth, maximum physical performance and optimal recovery.
To increase the bioavailability and potency of this formula, which itself has an extremely strong anabolic effect, MuscleMeds has also added the exclusive DecaDrive technology to Amіnо Dесаnаtе!
Amіnо Dесаnаtе supports the body's citric acid cycle for maximum muscle growth and peak power!
The citric acid cycle is a major energetic biochemical process in the body, taking place in the mitochondria of cells.
During exercise, the body's need for energy increases significantly to ensure muscle contractions and maintain the activity of cellular functions.
Under such conditions, the citric acid cycle is greatly accelerated, thereby providing additional energy for the muscles needed to overcome physical exertion.
Physical exertion therefore increases the need for the 19 critical amino acids involved in the execution of the citric acid cycle.
If a deficiency of these critical amino acids occurs during exercise, it can have a direct negative impact on physical performance and muscle growth.
If you want a better recovery, you already know what's in store for you!
Amіnо Dесаnаtе completes its formula with a complex of essential and non-essential amino acids that support the body to recover through different mechanisms.
This complex complements the BCAAs and glutamine, making Amіnо Dесаnаtе the most complete formula on the market.
Directions:
Mix one serving (1 scoop) of Amіnо Dесаnаtе with 250-300 ml of water and stir.
Take 1-2 doses daily - before, during and after exercise, or anytime you need amino acids for recovery.
WARNING!
Keep out of reach of children!
Consult your physician if you are taking medications or have a medical condition.
Details
Barcode (ISBN, UPC, etc.)
891597002788
Complex formula amino acids powder. Restore and build quality muscle.