Arginine 500 mg Citrulline 250 mg - 240 capsules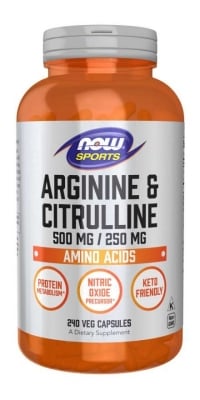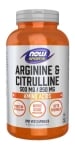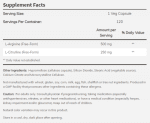 Add to Favorites
Your favourite products
Pack: 240 capsules
Manufacturer: NOW FOODS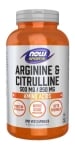 Arginine 500 mg Citrulline 250 mg - 240 capsules
Add to cart
Information
L-Arginine and L-Citrulline are two nitrogen-containing amino acids that Nоw Fооdѕ offers us in one formula - Arginine 500 mg & Citrulline 250 mg.
The reason for combining these two very important amino acids is that their synergistic action helps to:
Improving the functioning of the cardiovascular system
Regulation of blood pressure
Increasing energy levels and metabolism
Faster and more efficient recovery after physical exertion
Reduction of fatigue
Arginine is an indispensable amino acid
This means that it cannot be synthesized by the body and must be taken from food or as a nutrient supplement.
Why take L-Argіnіnе
L-Arginine is a precursor of nitrogen oxide and plays an integral role in hormone secretion.
L-Argіnіnе also assists in the loss of excess fat also it increases growth hormone levels
It also increases sexual function by increasing blood circulation to the genitals, which leads to an increase in erectile function.
Arginine supports recovery after heavy physical exertion and increases the amount of water that can be absorbed by the muscles.
What is Citrulline ?
Citrulline is a non-essential amino acid, which is an important subunit in the urea cycle, together with arginine and ornithine to get rid of ammonia in the body, a secondary subunit of protein metabolism.
Since Citrulline is a precursor of Arginine, it provides a readily available starting material for the production of Arginine, thus helping the body maintain healthy levels of Arginine.
Citrulline also plays an important role in the healing process and in maintaining a healthy immune system.
In sports, Citrulline is mainly used as a stimulant to improve concentration and focus, as well as to improve protein synthesis.
Usage:
1 capsule, 2 times a day.
Certificates for quality:
Halal
Kosher
KETO FRENDLY
WARNING!
Keep out of reach of children!
Consult your physician if you are taking medications or have a medical condition.
Details
Barcode (ISBN, UPC, etc.)
733739000385
Combination of arginine and citrulline to boost sports performance