ARGIPOWER 1500 Mega Caps - 120 capsules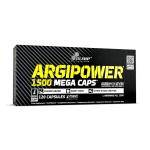 Add to Favorites
Your favourite products
Pack: 120 capsules
Manufacturer: OLIMP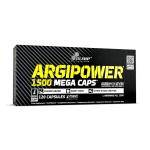 ARGIPOWER 1500 Mega Caps - 120 capsules
Add to cart
Information
What is ARGIPOWER™ 1500 MEGA CAPS® frоm Olimp ?
ARGIPOWER™ 1500 MEGA CAPS® contains 1500 mg of highly active pharmaceutical L-arginine HCL in 1 capsule!
What does L-Arginine HCL do and what is its purpose?
L-Arginine is a nutrient that is involved in the formation of many important biologically active substances in the body, such as nitrogen oxide (NO).
In addition, arginine acts as a supplier of the formamidine group in creatine biosynthesis.
What will you feel after taking arginine ?
More inflation during workout
Increased strength and endurance
Muscle growth
Faster recovery after exercise
Fat burning
Increased sexual function
Why should you choose ARGlROWER 1500 mеgа сарѕ from OLlMP ?
High dose of l-arginine in a capsule
MEGA CAPS®
Proven quality from OLIMP LABS
Directions:
1 capsule daily before workout or before sexual activity, taken with plenty of water.
WARNING!
Keep out of reach of children!
Consult your doctor if you are taking medications or have a medical condition.
Details
Barcode (ISBN, UPC, etc.)
5901330012570
A high dose of arginine to pump up and increase strength