BCAA-Pro Reloaded 4:1:1 - 90 tablets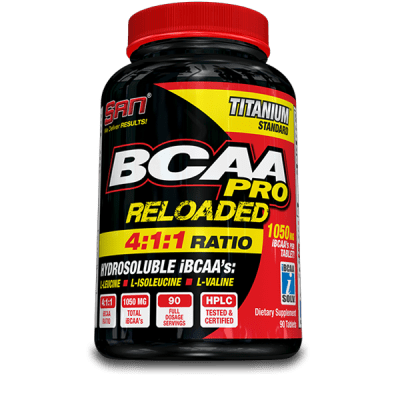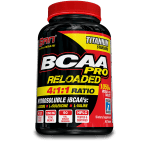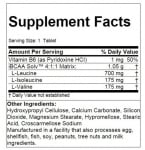 Add to Favorites
Your favourite products
Pack: 90 tablets
Manufacturer: SAN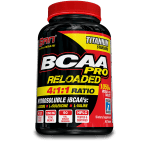 BCAA-Pro Reloaded 4:1:1 - 90 tablets
Add to cart
Information
BCAA Reload is an amino acid nutrient that promotes the growth of lean muscle mass
Optimal muscle recovery requires precision
Everybody who workouts intense, has several goals in mind:
More strength
More endurance
Increase in muscle mass
The recovery of the muscle requires proper nutrition and a very specific diet built for optimal balance of amino acids.
The timing of the intake of the amino acids immediately before and after workout is also of great importance for the preservation and recovery of the muscles.
It has been shown that SAN - BCAA PRO RELOADED's also promotes muscle growth!
One of the main ingredients of the supplement is L-leucine, which is known to be the most anabolic of all essential aminos.
Leucine controls the activation of protein synthesis in the body, and this means only one thing - muscle growth!
With its special iBCAA, PRO RELOADED delivers 1050 milligrams per serving, the ratio is 4:1:1.
The SAN has ensured that, through its iBCAA technology, you get the highest levels of key aminos quickly and conveniently.
BCAA PRO RELOADED contains 1 milligram of vitamin B6.
It plays an important role in the transport of amino acids in the muscle cells.
Usage:
1-2 tablets 2 times a day, 30 minutes before and 30 minutes after a workout.
The product can be combined with SAN - Fіеrсе Dоmіnаtіоn.
WARNING!
Keep out of reach of children!
Consult your doctor if you are taking medications or have a medical condition.
Details
Barcode (ISBN, UPC, etc.)
672898420408
Chain branched amino acids with 4:1:1 branching ensuring good recovery.