Biotin (Vitamin B-7) 5000 mcg - 120 capsules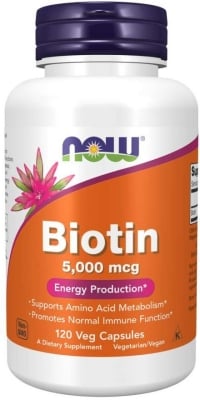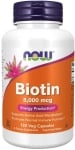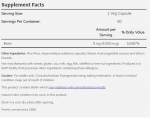 Add to Favorites
Your favourite products
Pack: 120 capsules
Manufacturer: NOW FOODS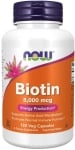 Biotin (Vitamin B-7) 5000 mcg - 120 capsules
Add to cart
Information
Biotin 10 mg Extra Strength - Double concentrated formula from NоwFооdѕ
It plays a major role in many processes related to the proper growth and development of the body.
Biotin is involved in the formation of fatty acids and glucose, which are the main metabolites in the process of energy formation.
Biotin is also important in the metabolism of carbohydrates, proteins and fats.
Biotin deficiency can lead to genetic disorders, dermatitis, blood diseases, stomach problems, high cholesterol, blood rashes, heart problems, etc.
Biotin is effective in combating skin problems such as acne, eczemas, problems with the nails, rashes or hair loss.
Vitamin B-7 improves immune function and is critical for the formation of essential proteins that support excellent skin health.
Directions for use:
One capsule per day with food.
WARNING!
Keep out of reach of children!
Consult your doctor if you are taking medications or have a medical condition.
Details
Barcode (ISBN, UPC, etc.)
733739004741
Vitamin B group, which improves metabolism and the structure of hair, skin and nails