BLACK FIRE - 240 capsules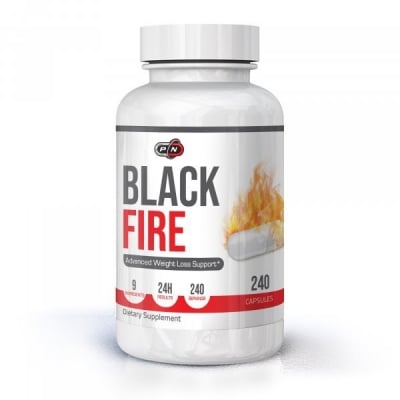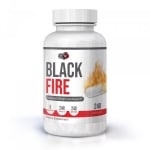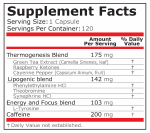 Add to Favorites
Your favourite products
Pack: 240 capsules
Manufacturer: PURE NUTRITION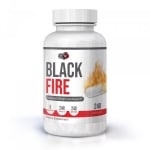 BLACK FIRE - 240 capsules
Add to cart
Information
Why is Black Fіrе a unique Fаt Burner?
BLACK FIRE is a product to be careful with! By buying it you agree to give 100% of your capabilities.
No excuses and no second chances. Train hard and get results.
At the end of the day, when you stand in front of the mirror, you should be able to boldly declare that you gave it your all.
Do you have the courage to play with fire?
BLACK FIRE is definitely ready to challenge even your wildest expectations by burning everything in its path, especially the excess fat you want to get rid of.
Ingredients of BLACK FIRE
BLACK FIRE is a potent thermogenic fat burning formula that contains a blend of 20 ingredients acting in a variety of ways.
When taken twice a day, these powerful ingredients boost metabolism and fat burning in the 8 hours following intake.
When combined with intense exercise and a proper diet, BLACK FIRE will invariably accomplish the purpose for which it was created, to turn fat into ash!
Why is BLACK FIRE so efficient?
BLACK FIRE is a formula of ingredients designed specifically for fat burning.
The synergistic action of the ingredients enhances the use of fat as an energy source from fat depots.
BLACK FIRE contains ingredients that mоnоgіnаlу enhance thermogenesis - the process of increasing heat release from ĸlеtѕ, which leads to burning more energy, expelling excess water and of course most importantly, burning fat.
This strong thermogenic burner has in its composition Guarana, which is an excellent stimulant, acts toning for the body and has a diuretic effect, removing excess water from the body.
In this product will find more:
Chromium to reduce appetite to sugar and regulate blood sugar
Green tea with a strong antioxidant effect
Chitosan for fat trapping
Uva Ursi to remove excess water from the body
Usage:
Start taking BLACK FIRE with 1/2 capsules in the morning and 1/2 capsules in the afternoon on an empty stomach.
Do not use after 16:00!
WARNING!
Keep out of reach of children!
Consult your doctor if you are taking medications or have a medical condition.
Details
Product type
Fat burning
Thermogenic fatburners
Barcode (ISBN, UPC, etc.)
8100058311232
The most powerful thermogenic fetburner for fast and long-lasting fat burning