Strength training for overweight individuals: will muscles grow?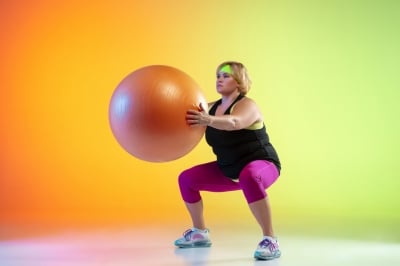 Strength training, also known as resistance or weight training, is the practice of using resistance to induce muscular contraction, which builds strength, endurance, and muscle size.
When considering strength training, an often asked question, especially among overweight individuals, is, "Will my muscles grow?"
This article delves into this query, shedding light on the interplay between strength training, fat loss, and muscle growth for overweight people.
Understanding muscle growth and fat loss

Muscle Growth (Hypertrophy): Lifting weights causes micro-tears in muscle fibers. As they repair, muscles grow in size and strength. The process is known as hypertrophy.
Fat Loss: Strength training increases metabolic rate, which means you burn more calories even when you're at rest. This, combined with a proper diet, can lead to fat loss.
Will muscles grow in overweight individuals?

Yes, muscles will grow in overweight individuals who engage in strength training.
However, the visible results might differ:
Hidden muscle growth: If an overweight person begins strength training, their muscles will start to grow beneath the layer of fat. Initially, this might not result in a visibly "muscular" appearance due to the fat layer, but the muscles are indeed growing and getting stronger underneath.
Fat loss and muscle definition: As one continues with their strength training and combines it with a calorie-controlled diet, they will begin to lose fat. Over time, as the fat layer diminishes, the growing muscles will become more visible, leading to a more toned appearance.
Benefits of strength training for overweight individuals

Boosted metabolism: Strength training helps in increasing muscle mass, which in turn boosts metabolism. This helps overweight individuals burn more calories, even at rest.
Increased bone density: Resistance training is known to increase bone density, reducing the risk of fractures.
Improved functional strength: This means better stamina and strength for daily activities, making everyday tasks easier.
Mental health boost: Regular strength training has been linked to reduced symptoms of depression, anxiety, and improved self-esteem.
Considerations for overweight individuals starting strength training

Seek medical clearance: Before starting any exercise regimen, it's crucial to get a clearance from a healthcare professional, especially if there are underlying health conditions.
Start slowly: It's essential to begin with lighter weights and gradually increase as your strength and endurance improve. This minimizes the risk of injury.
Hire a personal trainer: A trainer can provide guidance on proper form, which is critical to preventing injuries and ensuring effective workouts.
Consistency is key: While initial results might not be visible due to the fat layer, consistency will eventually lead to visible muscle growth and fat loss.
Conclusion

In essence, strength training is beneficial for everyone, irrespective of their weight.
Overweight individuals will indeed experience muscle growth with consistent resistance training.
While the initial results might be hidden beneath fat layers, persistence, combined with a balanced diet, will lead to a leaner, more muscular appearance over time.
Remember, it's not just about appearance; the myriad health benefits associated with strength training make it an invaluable addition to anyone's lifestyle.