Boron 3 mg - 100 capsules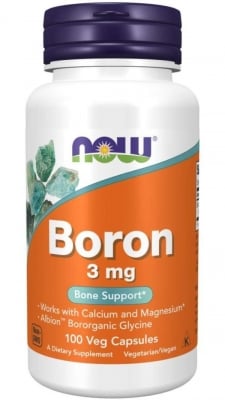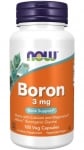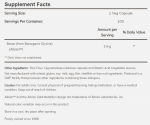 Add to Favorites
Your favourite products
Pack: 100 capsules
Manufacturer: NOW FOODS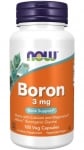 Boron 3 mg - 100 capsules
Add to cart
Information
Boron supports the metabolism of calcium, magnesium, phosphorus, copper and Vitamin D
Boron is a non-metallic element that must be present in a person's diet.
Boron is not officially recognized as an essential mineral, however, it is important for the metabolism of calcium, and therefore healthy fats.
In a study of women, supplementation with Boron - Boron reduced calcium loss by 44% and increased estrogen to the same levels as in women receiving estrogen replacement therapy.
Boron supports good joint and tendons.
Studies show that taking Boron reduces the loss of calcium through urine.
This leads to the conclusion that it assists in the preservation of bone mass with age.
Boron reduces the risk of osteoporosis, osteoarthritis and rheumatoid arthritis.
Usage:
One dose in the morning with food.
Take capsule dose per day (1 serving).
WARNING!
Keep out of reach of children!
Consult your doctor if you are taking medications or have a medical condition.
Details
Barcode (ISBN, UPC, etc.)
733739014108
The mineral boron is important for the metabolism as well as the hormonal balance of women