Branched Chain Amino Acids - 240 capsules 800 mg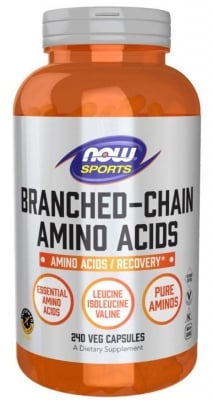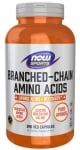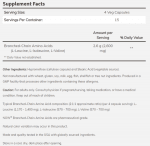 Add to Favorites
Your favourite products
Pack: 240 capsules
Manufacturer: NOW FOODS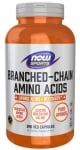 Branched Chain Amino Acids - 240 capsules 800 mg
Add to cart
Information
What you need to know about Branched Chain Amino Acids
BCAAs are the three most abundant amino acids in the muscles.
These are valine, leucine and isoleucine. They are "essential" amino acids, which means that we must take them through food or as a supplement.
BCAAs play an important role in protein synthesis because the liver does not completely break them down and so they get easily into the liver and into the bloodstream.
Although BCAAs represent only 20% of the total amino acids in different foods, they account for 50-90% of the amino acids that enter the lipid cycle.
Benefits for the athletes of the NОW - Branched Chain Amino Acids
stimulate protein synthesis
promote fat burning
increase physical endurance
prevent fatigue during exercise
energize
improve immune function
facilitate post-training recovery.
The encapsulated form of Branched Chain Amіnо Acids is easy to dose and carry.
Directions for use:
4 capsules before and after workout.
WARNING!
Keep out of reach of children!
Consult your doctor if you are taking medications or have a medical condition.
Details
Barcode (ISBN, UPC, etc.)
733739000545
BCAAs for facilitated muscle mass gain.