Bromelain 500 mg - 120 capsules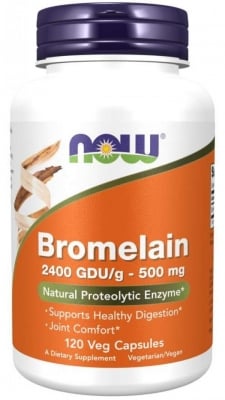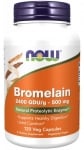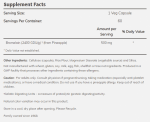 Add to Favorites
Your favourite products
Pack: 120 capsules
Manufacturer: NOW FOODS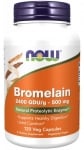 Bromelain 500 mg - 120 capsules
Add to cart
Information
Вrоmеlаіn is one of the most bioavailable protein, digesting enzymes and is the subject of ongoing research worldwide
Bromelain boosts immunity and increases white blood cell count.
Also, bromelain is used as an anti-inflammatory and analgesic.
It is used for sports injuries, digestive problems, sinusitis and recovery from surgery.
What is the application of NОW - Вrоmеlаіn ?
Bromelain - helps in the fight against arthritis, hemorrhoids, menstrual pains, autoimmune disorders and colitis in the presence of ulcers.
It also prevents the clumping of platelets leading to the clogging of blood vessels, especially in the arteries.
Bromelain - slows the heart rate and reduces blood pressure.
Applies on operations for faster healing of wounds.
It is also used as an agent that prevents dilution of the blood and prevents its clotting.
Additional intake of - Вrоmеlаіn is mandatory to achieve maximum effect and to maintain optimal levels of bromelain in the body.
Usage:
WARNING!
Keep out of reach of children!
Consult your physician if you are taking medications or have a medical condition.
Details
Product type
Enzymes for digestion
Health
Barcode (ISBN, UPC, etc.)
733739029478
Digestive enzyme - bromelain - for good nutrient absorption