Caprylic Acid 600 mg - 100 softgels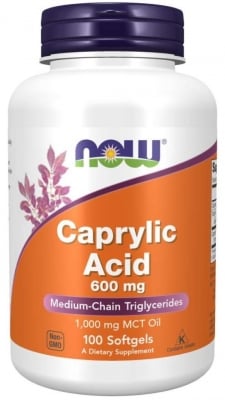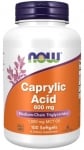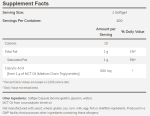 Add to Favorites
Your favourite products
Pack: 100 softgels
Manufacturer: NOW FOODS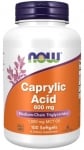 Caprylic Acid 600 mg - 100 softgels
Add to cart
Information
Caprylic acid is a naturally derived saturated fatty acid used for the traditional treatment of internal diseases
This fatty acid is also known as octanoic acid.
Caprylic Acid is a mixture of medium- and low-chain triglycerides, which are naturally found in olive oil, palm oil and mammalian milk.
Caprylic acid supports the complete digestion of food due to its ability to influence the healthy balance of intestinal flora.
It reduces fermentation processes formed by fungal growths unfavourable to the digestive system.
Caprylic Acid by NOW is widely used for the treatment of bacterial infections
Due to its relatively short chain, the acid has the ability to cross the walls of fatty cells, which increases its effectiveness against bacteria that thrive in a lipid environment.
Directions for use:
Take 1 dragee, twice a day with food.
WARNING!
Keep out of reach of children!
Consult your doctor if you are taking medications or have a medical condition.
Details
Barcode (ISBN, UPC, etc.)
733739033475
Dietary supplement to fight infections and improve the work of the digestive system