Cat's Claw Extract - 120 capsules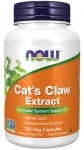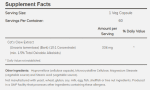 Add to Favorites
Your favourite products
Pack: 120 capsules
Manufacturer: NOW FOODS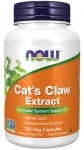 Cat's Claw Extract - 120 capsules
Add to cart
Information
10:1 Concentration , 1.5% Standardized extract
Cat's Claw is known for its anticoagulant and anti-inflammatory effects.
It stimulates the immune system, has a purifying effect on the gastrointestinal tract and has a beneficial effect on the production of white blood cells.
Cat's Claw has a strong action and is effective in stomach problems and strong viral diseases.
The herb stimulates the T-immune cells and is believed to have a certain anti cancer effect.
The NOW product contains an enzyme that converts harmful saturated fats into unsaturated fats.
Cat's Claw helps with arthritis and has anti tumor properties, it helps reduce stress and improve tone.
Usage:
One dose of 1 to 2 capsules daily, preferably with food.
WARNING!
Keep out of reach of children!
Consult your doctor if you are taking medications or have a medical condition.
Details
Barcode (ISBN, UPC, etc.)
733739046284
Cat's claw extract, which protects against colds and boosts immune defense. Suitable for the winter months.