Chromium Picolinate 200 mcg - 250 capsules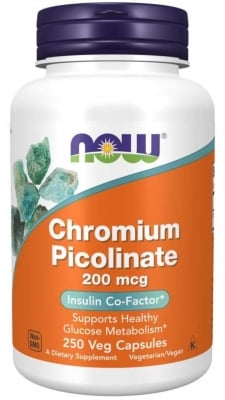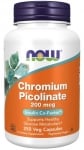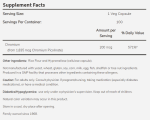 Add to Favorites
Your favourite products
Pack: 250 capsules
Manufacturer: NOW FOODS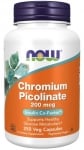 Chromium Picolinate 200 mcg - 250 capsules
Add to cart
Information
What is the role of Chromium Picolinate in the body
Chromium is one of the key and essential minerals for the production of insulin in the human body and also in the synthesis of fats and proteins.
Chromium Picolinate is the form of chromium that is best absorbed by the human body.
Chromium Picolinate is also used for energy production because it is involved in the metabolism of glucose, which is why this mineral is commonly referred to as "glucose tolerance factor" (GTF). It has a strong influence on fat metabolism and the increase of muscle mass.
What does chromium deficiency lead to ?
A number of studies have shown that when the levels of Chromium Picolinate in the plasma are low, this is an indication of carotid artery disease.
Very often in pregnant women an additional intake of Chromium Picolinate is necessary due to the developing fetus.
The deficiency of Chromium Picolinate in pregnancy leads to the increase of triglycerides and cholesterol in the uterus and leads to the development of atherosclerosis.
In addition, Chromium Picolinate has a great impact on the prevention of diabetes mellitus and cardiovascular disease, it also slows down the aging process.
With age, the levels of Chromium Picolinate in the body decrease and its intake as a nutritional supplement is recommended.
Directions for use:
One capsule daily, preferably with food.
WARNING!
Keep out of reach of children!
Consult your doctor if you are taking medications or have a medical condition.
Details
Barcode (ISBN, UPC, etc.)
733739014221
Chromium picolinate to improve insulin sensitivity, ideal for diabetics