CLA 800 mg - 100 softgels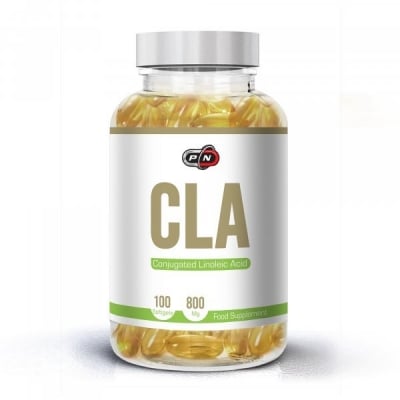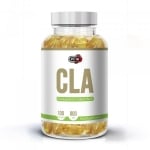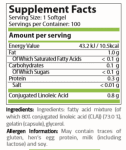 Add to Favorites
Your favourite products
Pack: 100 softgels
Manufacturer: PURE NUTRITION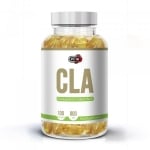 CLA 800 mg - 100 softgels
Add to cart
Information
What is the CLA of Pure Nutrіtіоn?
CLA of Pure Nutrіtіоn is free of stimulants and thermogenics, as there are 800 grams of bound conjugated linoleic acid (CLA) in each dragee.
In small amounts, CLA is found in meat and dairy products, and intake in moderate doses as a supplement helps thermogenesis.
This is a process in which heat energy is produced in the body and which increases metabolism and helps burn more calories and body fat.
CLA is also useful in that it increases insulin sensitivity and supports intestinal microflora.
Since Pure Nutrіtіоn's CLA does not contain stimulants, it combines well with all other additives, but it achieves particularly good synergy with pre-workout supplements or other fat burning additives.
What does CLA do?
CLA is a polyunsaturated fatty acid.
Research suggests that supplementing with 2-3 grams of CLA per day helps reduce body fat even in regularly training athletes.
The effect is due to the blocking action of lipoprotein lipase (LPL), an enzyme required for fat retention in the body.
In this way, the body is stimulated to burn fat and transform it into energy.
In active sports, CLA supports the accumulation of muscle mass even without a change in the exercise regime and diet.
The mechanisms by which CLA acts are still under investigation, but there is some evidence that CLA stimulates the expression of genes responsible for the production of UBP proteins - proteins that are normally found in mitochondrial protein and support thermogenesis.
Additional benefits of CLA include an increase in insulin sensitivity and regulation of blood sugar.
CLA is well accepted by the human body and is recognized as a safe dietary supplement by the US Food and Drug Administration (FDA).
Benefits from CLA by the Pure Nutrіtіоn:
Promotes body fat loss and calms down the metabolism;
Helps preserve and build muscle mass;
Stimulant-free formula;
High dosage (800 mg) in each dragee;
Manufactured in a cGMP certified factory;
Manufactured in Germany from pure, active and safe ingredients.
Usage:
We recommend starting with 2-3 dragees of CLA taken on an empty stomach about 30 minutes before a meal.
Subsequently, you can increase the dose to 4 dragees per day for faster results.
In the first few days after starting the intake, some people experience flatulence due to the change in the intestinal flora. This discomfort quickly passes with the body's adaptation to the intake of CLA.
WARNING!
Keep out of reach of children!
Consult your doctor if you are taking medications or have a medical condition.
Details
Barcode (ISBN, UPC, etc.)
8100058307754
Fatty acid to speed up metabolism and burn fat