CLA With Green Tea Plus L-Carnitine - 60 capsules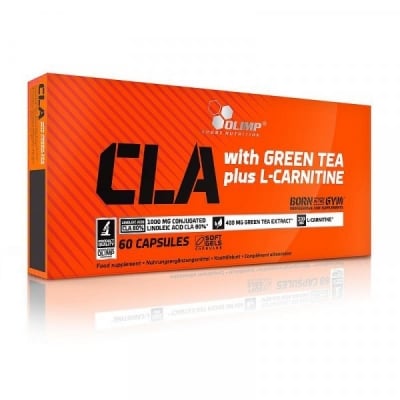 Add to Favorites
Your favourite products
Pack: 60 capsules
Manufacturer: OLIMP
CLA With Green Tea Plus L-Carnitine - 60 capsules
Add to cart
Information
Fat-burning products are always among the most popular in sports circles.
Most often, the supplements of this category are divided into fat burners with thermogenic action and those with lipotropic action.
The product under consideration is one with pronounced lipotropic action.
It is composed of three ingredients: conjugated linoleic acid, green tea extract and l-carnitine.
All of them have a very gentle effect on the body and can be taken by people who play sports as well as by people who lead a more sedentary lifestyle.
Conjugated linoleic acid (CLA), in addition to having an effect on body fat reduction, has a pronounced muscle building effect. It also has the ability to reduce the levels of bad cholesterol. Some authors give indications of its positive action on insulin sensitivity.
It is important to note that, in contrast to thermogenics, lipotropic fat-burning agents have a much slower action.
They reduce weight smoothly, but also, as already mentioned, significantly more sparingly for the body.
They do not affect on blood pressure nor pulse.
Green tea extract has a number of beneficial effects on the body. It has a diuretic action, which favours the increased elimination of toxins from the body. Another of its positive effects is the enhancement of metabolism.
The burning of calories is facilitated.
Last but not least, we should mention its anticancer action.
The third component in this products is l-carnitine.
It enriches the formula, contributing to easier fat burning. It only requires physical exertion from you to make this amino acid work as intended.
How to use:
1-2 capsules twice daily.
It is recommended that one intake is taken before a workout.
WARNING!
Keep out of reach of children!
Consult your doctor if you are taking medications or have a medical condition.
Details
Barcode (ISBN, UPC, etc.)
5901330048081
Combined product with CLA, green tea and l-carnitine for fat reduction.