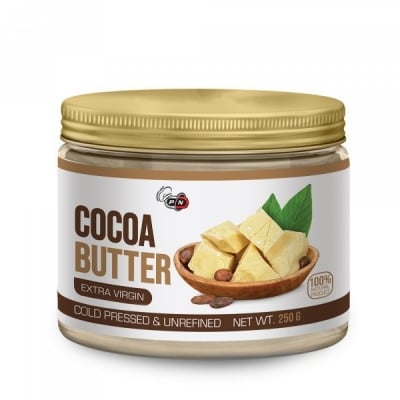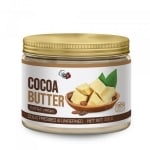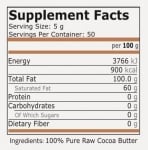 Add to Favorites
Your favourite products
Pack: 250 g
Manufacturer: PURE NUTRITION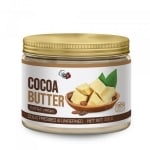 Add to cart
Information
PURE NUТRlТlОN have always been uncompromising about the quality of their products.
This time they are again providing us with certified, 100% natural, cold-pressed and unrefined products.
The oil of cocoa is a pale yellow vegetable fat with a light aroma and a smooth texture, extracted from cocoa grains, which are highly antioxidant as they contain a large number of polyphenols and flavanoids.
Its composition includes mainly saturated fatty acids, among which are:
stearic acid (24% to 37%)
palmitic acid (24% to 30%)
myristic acid (up to 4%)
arachidic acid ( about 1%)
lauric acid (about 1%)
It's used in the making of the chocolate we all love.
With it we can also make healthy cookies, homemade ice cream, different types of shakes, smoothies, raw candies and many other delicious and healthy recipes.
The oil of cocoa is an indispensable part of the composition of cosmetic products and is successfully applied in:
dryness and peeling of the skin
chapped lips
blisters on the lips
scars on the skin
burns
rashes and infections
improving heart health
massages with toning effect for the skin
Usage:
On the beach:
Cocoa is a great "weapon" for faster and easier blackening of the skin, while protecting us from the appearance of pigment spots.
In the cooking:
For cooking purposes, heat the required amount of Cacao oil in a water bath, then mix a variety of different ingredients according to what product you want to get.
Cosmetics:
For cosmetic purposes, rub in your palm as it melts and apply evenly over your desired area, or mix cocoa with other ingredients and you can make your own lotion or cream.
Details
Barcode (ISBN, UPC, etc.)
4014871142369
Cocoa butter for beautiful hair, skin and nails