CoQ10 30 mg - 60 capsules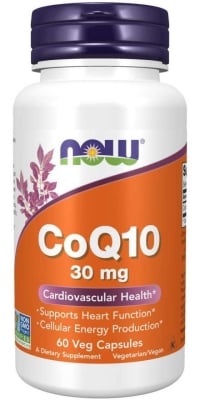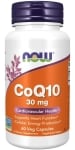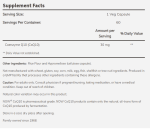 Add to Favorites
Your favourite products
Pack: 60 capsules
Manufacturer: NOW FOODS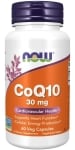 CoQ10 30 mg - 60 capsules
Add to cart
Information
Coenzyme Q10 is a fat-soluble antioxidant with a structure similar to vitamin E
CoQ10 is an extremely powerful antioxidant.
It helps the body to convert energy taken in through food into energy in the form of ATP.
Almost every cell in the body contains CoQ10, the highest amounts of which are found in the mitochondria.
Significant amounts of CoQ10 are contained in the heart, liver, kidneys and pancreas.
CoQ10 supports the immune system, slows aging and helps cardiovascular activity.
Coenzyme Q10 even aids fat burning and optimizes metabolism
The daily intake of Coenzyme Q10 is 30-90 mg. The absorption of Q10 improves significantly when taken with fatty acids.
Nоw Fооdѕ CoQ10 received the Vіtу Awаrd (the mоѕt prestigious U.S. dоbаvіоn award) fоr the bеѕt рrоduсt fоr heart health support in 2008.
Directions:
1-2 doses daily with food.
Recommended intake of CoQ10 with essential fatty acids.
WARNING!
Keep out of reach of children!
Consult your doctor if you are taking medication or have a medical condition.
Details
Barcode (ISBN, UPC, etc.)
733739031846
Powerful antioxidant, helps burn fat