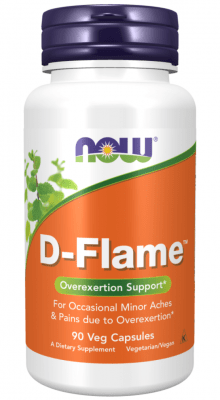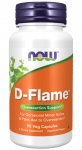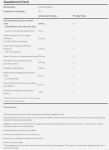 Add to Favorites
Your favourite products
Pack: 90 capsules
Manufacturer: NOW FOODS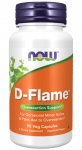 Add to cart
Information
D-Flame™ is a well-balanced natural complex whose usefulness is concentrated in different directions.
One of the main ingredients is Holy Basil. It is a herb that has been used to treat various diseases.
It has been shown to have the ability to have a positive effect on liver function.
This supplement is also known for its antioxidant activity and it is classified as an adaptogen.
Holy Basil is standardized to 2% ursolic acid.
It has been highly promoted as a muscle builder by the world-renowned chemist Patrick Arnold.
The trust it enjoys in the community worldwide has also led a number of brands to launch supplement products based on ursolic acid.
Other positive actions of the latter are: adaptogenic action, high anti-inflammatory action, ability to reduce levels of excess fat.
D-Flаmе ™ is strictly specifically formulated, whose main purpose is to reduce inflammatory processes in the body.
This is due to the presence of : curcumin, ginger, boswellia and bromelain.
Usage:
Take 1-2 capsules daily with food.
It is appropriate to combine with joint supplements, adaptogens and antitoxins.
WARNING!
Keep out of reach of children!
Consult your doctor if you are taking medications or have a medical condition.
Details
Barcode (ISBN, UPC, etc.)
733739031211