D-Mannose 500 mg - 120 capsules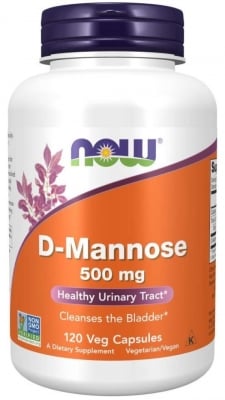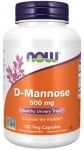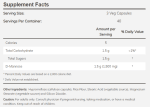 Add to Favorites
Your favourite products
Pack: 120 capsules
Manufacturer: NOW FOODS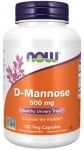 D-Mannose 500 mg - 120 capsules
Add to cart
Information
D-Mannose is a natural saccharide, it is contained in a number of plants, one of which are blueberries
This saccharide has nothing to do with antibiotics and other drugs, but it helps to eliminate the bacteria E-coli in the urinary tract.
E-coli is the bacteria responsible for 90% of bladder infections and cystitis.
Benefits of taking D-Mannose
Although one part of the D-Mannose that enters the body is absorbed by it, most of the saccharide is thrown out through the urinary tract.
In this way, the saccharide has a beneficial effect on the body because it has no destructive effect on the cells and micro flora in the body.
In the urinary bladder, D-Mannose adheres to unwanted and harmful external particles, which prevents their accumulation on the walls of the urinary bladder.
Due to the fact that only small amounts of D-Mannose are absorbed into the body, taking the supplement does not affect healthy levels of dietary sugar.
Directions:
Take 3 capsules, 1 to 3 times a day.
Take with water or low-calorie juice.
WARNING!
Keep out of reach of children!
Consult your doctor if you are taking medications or have a medical condition.
Details
Barcode (ISBN, UPC, etc.)
733739028112
A natural saccharide, it helps eliminate the E-Coli bacteria in the urinary tract