EFX Kre-Alkalyn - 240 capsules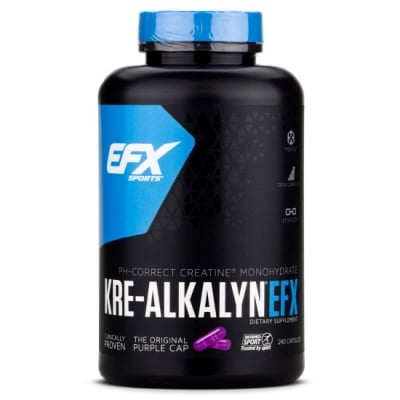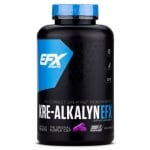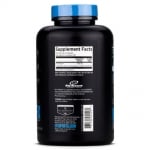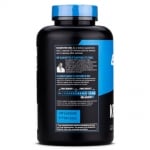 Add to Favorites
Your favourite products
Pack: 120 doses
Manufacturer: EFX Sports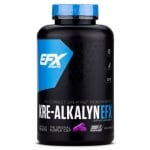 EFX Kre-Alkalyn - 240 capsules
Add to cart
Information
KRE ALKALYN - strength and power in every form!
Twenty-four elite athletes were selected to participate in a clinical study comparing Kre Alkalyn to standard creatine monohydrate.
After 60 days, the Kre-Alcalun® group (using 7.5 g per day) had an overall average increase in strength with 28.25% over those in the group using standart creatine monohydrate!
The creation of Kre Alkalyn is a huge breakthrough in researches and the creation of nutritional supplements.
It completely changed the industry by displacing the most popular nutritional ingredient, creatine monohydrate, from the top. Thanks to the multi-patented pH-Correct technology, it is much more effective.
D-p Jeff Golini, found that "buffering" to pH-12 results in the creation of a stable creatine molecule. Kre Alcalyn is the only creatine monohydrate with pH 12, as its molecules are synthesized with "buffering" agents using a proper manufacturing process.
Kre Alcalin has a higher pH to resist the acids of the digestive system. Therefore, creatine remains completely stable, which means your body absorbs and uses it effectively.
What can you expect from Kre Alcalin?
Much more strength
Durability and explosiveness
Fast recovery
Increase in lean muscle mass
Usage:
4 capsules per day - 2 capsules 30 minutes before the workout and 2 capsules immediately after the workout
WARNING!
Keep out of reach of children!
Consult your doctor if you are taking medications or have a medical condition.
Details
Ingredients
Kre-Alkalyn (Buffered Creatine)
Barcode (ISBN, UPC, etc.)
737190001295
Increase strength and muscle mass