EVE Woman's Multi - 90 softgels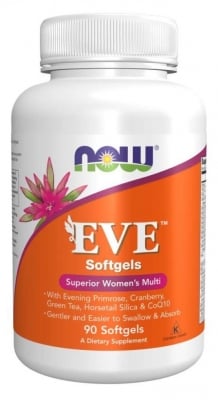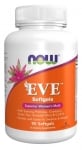 Add to Favorites
Your favourite products
Pack: 90 softgels
Manufacturer: NOW FOODS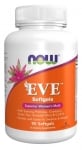 EVE Woman's Multi - 90 softgels
Add to cart
Information
Women Multivitamins Eve is a special supplement formulated for our special ladies
A woman can subject her body to incredible loads and it can endure.
Every body needs an extra dose of micronutrients.
Women Multivitamins Eve contains a full spectrum of vitamins and minerals, herbal extract and other nutritional ingredients indispensable for women's health.
What are the benefits of multivitamins?
Women's vitamins - Eve help to build the body and its recovery after physical exertion, contribute to health and potency, maintain the strength of the body's nourishment.
To the Women's Vitamins - Eve are added extract from herbs and plants, soy isoflavones and plant enzymes.
Soy isoflavones, the herb dong gui and the earth apple called gulia take care of normal hormonal balance, cholesterol levels and cardiovascular function.
Silicone and betaine are responsible for the strength of the nails and hair.
Choline, inositol and PABA support the nervous system.
Plant enzymes promote normal digestion.
This formula of NOW Fооdѕ is in the form of liquid dragees.
This allows for a higher content of fat-soluble elements like vitamins and antioxidants.
In liquid form, the ingredients in the substrate are absorbed more quickly in the body, reducing to a full extent the destructive power of gastric juices on them.
Women's Vitamins - Eve received the Vita Awardee Award (the most prestigious award in the United States for vitamins) for the best product in the 2008 Women's Health category.
Directions:
One dose in the morning with food.
WARNING!
Keep out of reach of children!
Consult your physician if you are taking medications or have a medical condition.
Details
Barcode (ISBN, UPC, etc.)
733739038029
Women's multivitamins, help build muscles and recovery after physical exertion