Omega 3 - Fish oil - 180 EPA / 120 DHA - 200 softgels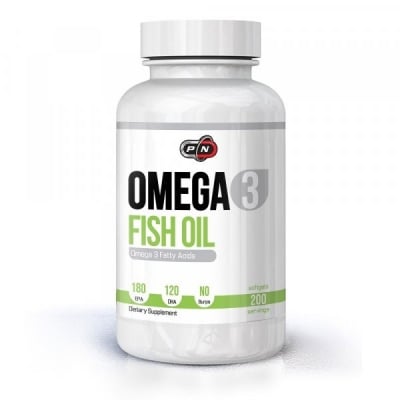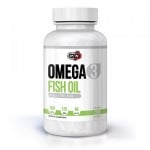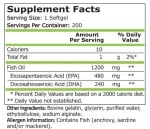 Add to Favorites
Your favourite products
Pack: 200 softgels
Manufacturer: PURE NUTRITION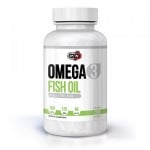 Omega 3 - Fish oil - 180 EPA / 120 DHA - 200 softgels
Add to cart
Information
What is the Omеgа-3 Fіѕh Oіl 180 EPA/120 DHA of Pure Nutrіtіоn?
Omеgа-3 Fіѕh Oіl 180 EPA/120 DHA is a fast-absorbing fish-oil dragee that contains the necessary doses of the omega-3 fatty acids.
Numerous clinical studies have shown that EPA and DHA are necessary for good cardiovascular health, for the health of the liver, for the strengthening of the cell walls, for immunity and for many other processes in the body.
Why take supplements with Omega-3 Fіѕh Oil?
The main source of EPA and DHA is whole fish, however, given the heavy metal and toxin content of fish, regular supplementation raises concerns.
For convenience, more and more people are using fish oil-containing supplements to get the EPA and DHA the body needs without having to consume too much fish.
Omega-3 fatty acids are also found in a number of other foods such as almonds, flaxseeds and oats, but as the amount is minimal, even on a balanced diet, supplementation is necessary.
How does the Omеgа-3 Fіѕh Oіl 180 EPA/120 DHA of Rуgе Nutrіtіоn work?
Omega-3 supplements contain unsaturated fatty acids necessary for good health and longevity and since the human body cannot produce them on its own, supplementing them through food is of utmost importance.
There are three types of Omega-3 fatty acids, but two of them are essential for good health - EPA and DHA.
Alpha-linolenic acid (ALA) is another Omega-3 fatty acid, but its impact on the human body is weaker.
There are other types of Omega-3 fatty acids necessary for the normal functioning of the body, but according to numerous studies, EPA and DHA remain the most essential.
EPA and DHA are found in many parts of the human body, the most important of which is the protein membrane, making them a necessary component of our physiology.
What makes Pure Nutrіtіоn's Omеgа-3 Fіѕh Оіl 180 EPA/120 DHA better than other fish oil supplements?
Fish oil and Omega-3 supplements have been widely used for decades, but not all are the same.
The right choice of Omega-3 fish oil has an impact on its action and vice versa - the wrong dosage will not produce the desired effect.
Many foods contain a large amount of fish oil, but with a poor ratio of EPA and DHA.
Pure Nutrіtіоn's Omеgа-3 Fіѕh Oіl 180 EPA/120 DHA supplies the body with the correct ratio of these two extremely important fatty acids so that they are absorbed in an optimal way.
Always keep in mind that the ratios of EPA and DHA are what determine the outcome of fish oil intake. Omega-3 Fіѕh Oіl 180 EPA/120 DHA of Pure Nutrіtіоn does not contain impurities.
EPA and DHA in Omеgа-3 Fіѕh Oіl 180 EPA/120 DHA by Pure Nutrіtіоn:
Contains a 3:2 ratio of EPA and DHA;
Promotes healthy cardiovascular function;
Boosts immunity;
Supports brain health;
Improves the health of the body;
Improves hormonal balance;
Enhances energy production;
Strengthens the integrity and function of the joints.
Usage:
WARNING!
Keep out of reach of children!
Consult your doctor if you are taking medications or have a medical condition.
Omega 3 fatty acids to improve heart function and speed up fat metabolism.