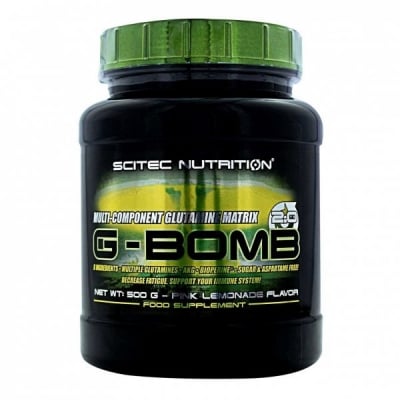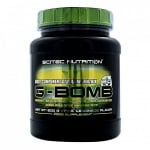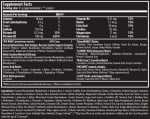 Add to Favorites
Your favourite products
Pack: 500 g
Manufacturer: SCITEC NUTRITION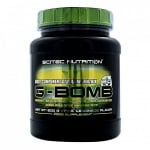 Add to cart
Information
G-Bomb is a multi-infused super glutamine matrix
The amino acid L-glutamine, well-known and extremely popular as a nutrient, makes up over 60% of all amino acids in cellular nutrients and is vital for the entire body.
It is also widely used by the immune system and the gut to keep our body in excellent health.
Glutamine increases protein synthesis, decreases the breakdown of mycĸylytes, lowers ĸoptisol values and increases ĸeat volume.
Let's add to all this the ability of Glutamine to increase growth hormone values by over 400%!
And that's not all - this amino acid stabilizes fasting sugar values, increases glycogen reserve levels and reduces cravings for certain foods.
Studies have shown that after intense workout glutamine levels in the body drop by approximately 50%.
The only problem with glutamine supplements is that they most often contain only the free form of this amino acid, L-glutamine, which is very sensitive and unstable.
Furthermore, it is most often "hijacked" and used for the needs of the immune system and digestive tract.
We do not deny the need to support these systems, which are essential for our health and have an indirect impact on improving sporting performance and achieving optimal athletic fitness in every athlete.
However, it should be known that the free form L-glutamine is not intended to have a direct and obvious effect on the muscle cells.
Therefore, G-Vomb contains a patented glutamine matrix containing 4 types of glutamine!
We have also included the free form of glutamine to take care of your health.
G-Vomb is sugar and aspartame free!
Directions:
As a food supplement, mix 14 grams with 300-400 ml of water.
Take 1 dose 30-40 minutes before training and 1 dose immediately after training.
It is also appropriate to take in the evening, before bedtime.
Additionally, G-Bomb can be taken several times a day, between meals.
WARNING!
Keep out of reach of children!
Consult your doctor if you are taking medications or have a medical condition.
Details
Flavour
Ice tea
Orange
Pink Lemonade
Barcode (ISBN, UPC, etc.)
5999100000896
A matrix of different forms of glutamine in powder form.