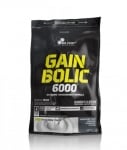 Add to cart
Information
Gain Bolic 6000 - special blend for muscle mass and recovery.
Gain Bolic 6000 is a complex of carbohydrates with different glycemic index and protein blend, which support the growth of muscle mass and their rapid recovery after fatigue.
Gain Bolic 6000 is enriched with creatine monohydrate and taurine, which increase the performance of the muscles.
Gain Bolic 6000 has anabolic properties.
This makes it the preferred product of many professional athletes.
Gain Bolic 6000 does not contain vegetable proteins or lactose (the sugar in milk).
In one dose will only find:
top quality carbohydrates
a protein blend including whey protein, casein and egg albumin
creatine monohydrate
taurine
vitamins and minerals
Unique taste and convenient pack make Gain Bolic 6000 your faithful gym companion.
How to use:
Take 1-2 doses per day between meals or after workouts.
Dissolve one dose ( 100 g = 2 scoops) in 170-200 ml of water and drink immediately after preparation.
WARNING!
Keep out of reach of children!
Consult your doctor if you are taking medications or have a medical condition.
Details
Product type
Gainers
Muscle mass building
Protein
Barcode (ISBN, UPC, etc.)
5901330038068
High calorie food powder for weight gain