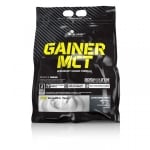 Add to cart
Information
The Gainer MCT is an iconic podyĸt, the first version of which was launched in 1994.
Today, the perfect form of Gainer MCT is the result of many years of tradition and careful work on its composition.
Gainer MCT is an excellent source of concentrated energy, containing a properly selected range of carbohydrates and healthy vital proteins - the perfect combination for efficient muscle building.
Research suggests that protein promotes growth and maintenance of muscle mass.
The carbohydrates with differentiated glycemic index ensure optimal absorption of sugars with different complicity.
Providing the body with these elements after physical exertion allows a complete and rapid replenishment of glycogen reserves and helps to maintain the energy balance at the desired level, protecting the body from fatabolism.
Olimp's MCT Gainer is supplemented with a complex of 12 vitamins that should be added to improve physical fitness.
The supplement contains creatine monohydrate.
With the help of Olіmр's MCT Gainer, you can be sure that your muscles will never run out of valuable fuel and stimulus for growth and regeneration.
You'll fortify your muscles with energy and building blocks in a comprehensive way and help yourself achieve remarkable results - fast, safe growth and incredible strength!
The product is recommended especially for men who have difficulties gaining weight, in particular muscle mass.
The target group also includes athletes who work out with high intensity and people who enjoy intense sports.
Usage:
1 (60 grams) to 2 doses per day, dissolved in about 150 ml of water
Take between meals or after a workout
WARNING!
Store out of reach of children!
Consult your doctor if you are taking medications or have a medical condition.
Details
Flavour
Chocolate
Strawberry
Vanilla
Dietary supplement for mass gain