GLUCOSAMINE + MSM + CHONDROITIN - 90 tablets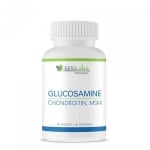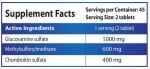 Add to Favorites
Your favourite products
Pack: 90 tablets
Manufacturer: HS LABS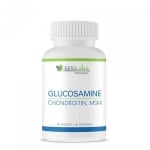 GLUCOSAMINE + MSM + CHONDROITIN - 90 tablets
Add to cart
Information
GLUCOSAMINE + MSM + CHONDROITIN = HEALTHY JOINTS AND CARTILAGES
Why is GLUCOSAMINE + MSM + CHONDROITIN by HS LABS so effective ?
GLUСОЅАМІNЕ
Glucosamine is found naturally in the human body and is used to build joints. It is responsible for building joints, cartilage and connective tissues faster. As we age and the joints become more stressed, glucosamine decreases and must be taken as a nutrient supplement. Decreased glucosamine levels lead to joint cartilage deterioration and wear.
CHONDROITIN
This is one of the main ingredients of cartilage. It aids in the retention of water and nutrients and in the smooth movement of molecules through the cartilage.
MSM
Methylsulfonylmethane is a naturally occurring form of organic sulphur that is present in the tissues of all living organisms. It is not contained in foods that have been stored for a certain period of time or processed in a different way. MSM binds to moisture and disappears when dehydrated. Research suggests that MSM will be an effective tool not only in the fight against arthritis, but also against other diseases that lead to degeneration of connective tissue.
GLUCOSAMINE + MSM + CHONDROITIN is suitable for:
Athletes and non-athletes, people of all ages
Suitable for long-term use
Ideal for combination with hyaluronic acid, collagen, boswellia and other supplements improving the health of joints, cartilage and tendons.
Directions:
1 dose (2 tablets) per day, preferably in the morning.
WARNING!
Keep out of reach of children!
Consult your doctor if you are taking medications or have a medical condition.
Details
Ingredients
Chondroitin sulfate
Glucosamine sulfate
Methylsulfonylmethane
Product type
Joints, cartilages, tendons
Barcode (ISBN, UPC, etc.)
3800234190259
Healthy joints, cartilage and tendons with the best combination of ingredients