Glucosamine & MSM Vegetarian 500/500 - 120 capsules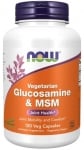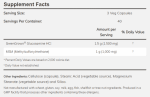 Add to Favorites
Your favourite products
Pack: 120 capsules
Manufacturer: NOW FOODS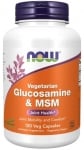 Glucosamine & MSM Vegetarian 500/500 - 120 capsules
Add to cart
Information
Vеgеtаrіаn Gluсоѕаmіnе & MЅM 500/500 is one of the most effective vegetarian formulas for joints and cartilage
Glucosamine is an aminomonosaccharide that is naturally present in the human body.
Glucosamine is used in the construction of joints and cartilage.
When more Glucosamine is present, the human body builds joints, cartilage and connective tissues faster.
With age, the production of Glucosamine decreases and wear and tear of the ligaments is observed.
This wear is associated with uncomfortable pain during physical exertion.
MSM (methylsulfonylmethane) is present in the tissues of all living things.
Foods that are not fresh do not contain MSM, it binds to moisture and evaporates with it.
Similarly to glucosamine, MSM provides raw material for joints and cartilage.
The main function of MSM is to provide material to keep different types of connective tissue such as articular cartilage healthy.
MSM - controls constipation, reduces allergic reactions, reduces gastric discomfort, controls hypersensitivity, reduces symptoms of hangover, has anti-inflammatory effect.
Research suggests that MSM will be an effective tool not only in the fight against arthritis, but also against other diseases that lead to degeneration of connective tissue.
The formula of NOW Fооdѕ combines thе two most effесtіvе ingredients thаt protect joints and cartilage in thе human body
Nоw Fооdѕ іѕ thе creator оf thе official technology tо test thе effесtivity оf glucosamine products.
With this, the company establishes itself as a leader in the development of joint and cartilage products, achieving the highest possible performance through the use of advanced methods and technologies.
Usage:
3 capsules per day with food.
WARNING!
Keep out of reach of children!
Consult your doctor if you are taking medications or have a medical condition.
Details
Barcode (ISBN, UPC, etc.)
73373903130
Complex for maintaining healthy joints and tendons.