Glucosamine Sulfate 750 mg - 240 capsules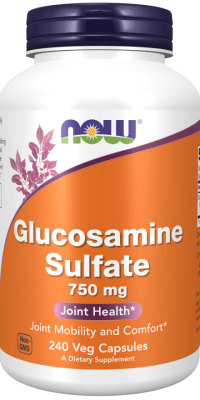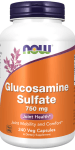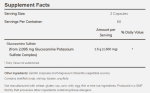 Add to Favorites
Your favourite products
Pack: 240 capsules
Manufacturer: NOW FOODS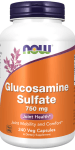 Glucosamine Sulfate 750 mg - 240 capsules
Add to cart
Information
Glucosamine is an amino monosaccharide naturally present in the human body
Glucosamine is used in the construction of joints and cartilage.
When there is more glucosamine in the human body, joints, cartilage and connective tissues are built faster.
With age, the production of Glucosamine decreases, resulting in wear and tear of the joints and ligaments, associated with uncomfortable bruising during physical exertion, which requires its additional intake in the form of a supplement.
The most popular form of GLUOSAMlNE is SULFATE. A number of studies have been conducted on it, which show:
Improvement of the structure of the joints
Reducing the number of painful joints
Suitable for intake by people in old age
Recommended for intake by athletes for prevention purposes
Helps healing of wounds on the skin
Usage:
2 capsules 1 - 2 times a day, preferably with the first meal of the day.
WARNING!
Keep out of reach of children!
Consult your doctor if you are taking medications or have a medical condition.
Details
Barcode (ISBN, UPC, etc.)
733739032386
Complex for maintaining healthy joints and tendons.