GR 8 Dophilus - 120 capsules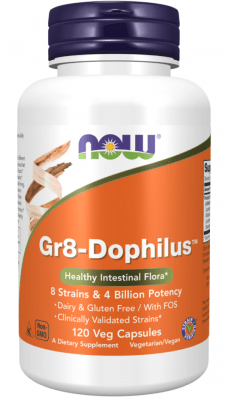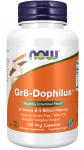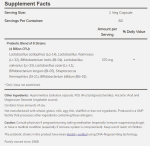 Add to Favorites
Your favourite products
Pack: 120 capsules
Manufacturer: NOW FOODS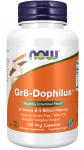 GR 8 Dophilus - 120 capsules
Add to cart
Information
NOW - GR 8 Dорhіluѕ - Probiotics is a combination of eight different types of bacterias
NOW's products are designed to support the digestive system and the function of the immune system.
Fructooligosaccharides are added to the supplement to support the normal function and growth of healthy bacteria in the intestinal flora.
The capsules have a special cover that allows their degradation to take place only in the small intestine, when they pass undamaged through the harsh intestinal environment of the stomach.
What are the benefits of taking probiotics GR 8 Dorhіluѕ ?
GR 8 Dорhіluѕ - Stable Probiotics is designed to support the function of the digestive system, improve the absorption of nutrients, eliminate stomach problems like bloating, discomfort, disorders and more.
GR 8 Dорhіluѕ - Stable Probiotics is a special formula of probiotics designed to have better heat tolerance and strain stability when stored at room temperature.
Usage:
One capsule 1-3 times daily.
WARNING!
Keep out of reach of children!
Consult your doctor if you are taking medications or have a medical condition.
Details
Barcode (ISBN, UPC, etc.)
733739029102
Health supplement, a combination of probiotics for healthy gastrointestinal flora