Hair, skin and nails - VEGAN - 90 capsules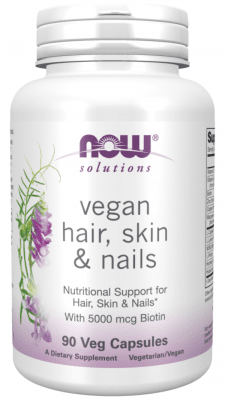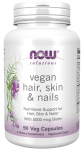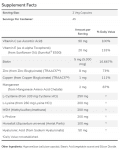 Add to Favorites
Your favourite products
Pack: 90 capsules
Manufacturer: NOW FOODS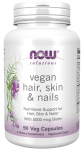 Hair, skin and nails - VEGAN - 90 capsules
Add to cart
Information
NOW® Solutions Vеgаn Hair, Skіn & Naіlѕ is a vegan nutrient supplement for nourishment of hair, ѕkіn and nails with a high content of Biotin - 5000 mсg.
In the composition of the product you will find ingredients to help increase the production of цоллаген and creatine to maintain:
healthy and radiant hair
elastic and unbreakable hair
younger skin
Vеgаn Hair, Ѕkіn & Nаіlѕ contains:
Vitamins
Minerals
Amino acids
Antioxidants
Directions:
2 capsules 1 time per day with food.
Certificates for quality:
WARNING!
Keep out of reach of children!
Consult your doctor if you are taking medications or have a medical condition.
Details
Barcode (ISBN, UPC, etc.)
733739033819
A combination of vitamins, minerals and herbs for healthy hair, skin and nails.