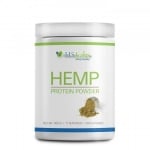 HEMP PROTEIN POWDER - 500 g
Add to cart
Information
What is Hemp Protein by HS Lаbѕ?
HS Lаbѕ Hemp Protein is rich in essential amino acids and beneficial dietary fibers to support gut health and digestive function.
Being on a plant-based diet can be very challenging because it is difficult to meet your protein needs through food alone.
Unfortunately, many protein powders on the market are made from animal ingredients that are not suitable for vegetarians.
A single dose of HEMP PROTEIN POWDER from HS Labs contains:
15 grams of high quality vegetable protein
7,2 grams of dietary fibre
Only 1.3 grams of naturally occurring sugar
More than 110 calories
No added flavours, aspartame or acesulfame-K
Benefits of HS Labs Hemp Protein Powder
The struggle of many athletes and people on a plant-based diet is getting enough protein and essential amino acids through food alone, since plants don't have as much protein content as animal foods like meat and dairy.
HPS Lаbѕ Hemp Protein:
Hemp protein is a complete plant protein providing all essential amino acids
Hemp protein is suitable for vegetarians
Hemp is an excellent source of dietary fibre
Can maintain healthy cholesterol and blood pressure levels
Free of flavours
What makes HS Labs Hemp Protein the best plant protein powder?
HS Lаbѕ Hemp Protein is suitable for people on a plant-based diet.
It contains 100% hemp protein, an easily digestible plant protein that contains the full complement of essential aminos and a rich amount of dietary fibers to support healthy digestion.
Suggested use:
As a dietary supplement, dissolve one serving (30 g) of HS Labs' protein powder in 200-250 ml of room temperature water (for optimal solubility).
WARNING!
Keep out of reach of children!
Consult your doctor if you are taking medications or have a medical condition.
Details
Barcode (ISBN, UPC, etc.)
3800234191171