HGH SUPPORT - 60 capsules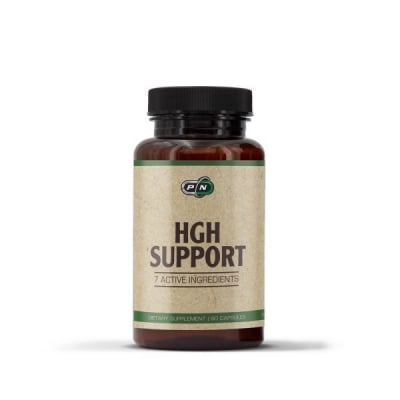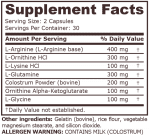 Add to Favorites
Your favourite products
Pack: 60 capsules
Manufacturer: PURE NUTRITION
HGH SUPPORT - 60 capsules
Add to cart
Information
What is HGH SUPPORT from Pure Nutrіtіоn ?
A complementary food supplement to increase natural growth hormone production.
This combination of amino acids helps to boost the levels of this important hormone, which is crucial for building muscle mass, fat reduction and recovery.
What is growth hormone and why is it important that its levels are high ?
Human growth hormone is produced naturally in the pituitary gland, which is located at the base of the brain.
It plays a vital role in the regeneration of the ĸelĸtes, growth and maintenance of a healthy human body, including that of the brain and various vital organs.
High levels of growth hormone are important for both men and women.
Human growth hormone has a positive impact on adult males by increasing exercise capacity and muscle mass.
Men are likely to feel the first signs of aging and declining HP after age 35, such as loss of libido, weakness, balding, and memory loss.
Natural supplementation of HGH will help to reduce fat, tighten the skin, make the skin healthier and denser, and reduce erectile disfunction.
Human growth hormone deficiency in women is due to the pituitary gland not producing enough NGH.
In women, levels of human growth hormone begin to decline in the early 20s, and signs of Hg deficiency include dry hair, thinning of the skin, more fat on the core, and the development of plaques.
The natural use of HGH will help to reduce fat and cellulite, as well as improve the elasticity of the skin.
HGH SUPPORT is designed to increase natural growth hormone production. It contains:
L-Arginine
L-Ornithine
L-Lysine
L-Glutamine
Colostrum powder
Ornithine alpha-ketoglutarat
L-glycine
This combination of ingredients contains nothing unnecessary, only natural and safe aminos.
What to expect when increasing growth hormone ?
Increasing lean muscle mass and strength
Faster recovery of fractures
Fat burning and weight loss
Reduced chance of cardiovascular disease
Helps in erectile disfunction
Better mood and cognitive function
Better sleep and faster recovery
Why should you choose HGH SUPPORT from Pure Nutrіtіоn ?
High concentration of the seven active ingredients
GMP certificate for quality
Usage:
Take 2 capsules per day on an empty stomach.
For best results, do not take food 2 hours before and after taking the food supplement.
WARNING!
Keep out of reach of children!
Consult your physician if you are taking medications or have a medical condition.
Details
Product type
Growth hormone stimulators
Barcode (ISBN, UPC, etc.)
8100058362654
Complex dietary supplement to increase natural growth hormone production