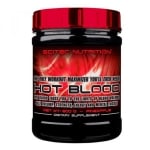 Add to cart
Information
Scitec introduce their unique pre-workout formula Not Flood 2.0
If you want to maximize and push the boundaries of mega-volume (fantastic inflation!), mega-volume, strength, energy and mental fitness, all you need is Not Blood 2.0!
The sophisticated formula works by stimulating the ATP-CP (adenosine triphosphate - creatine phosphate) energy mechanism, increasing mycelial volume, increasing nitrogen oxyde levels to inflate muscle mass, providing stimulating energizers and mental focus optimizers.
This is the products that will give you what has been missing in your workout!
Not Blood 2.0 also contains the notorious nano-cleavage ingredient, the muscle stimulant - beta alanine.
It increases effectiveness strength and physical performance.
Hot Blood 2.0 consists of several powerful components
Volume increasing mycelial coil
The ingredients of this ampoule work synergistically, adding extra volume and increasing the strength of your muscles.
The complex contains:
Multi-coated creatine matrix - creatine malate and creatine orotate
Pre-creatine matrix factors - betaine (trimethylglycine), glucosamine
Multi-vector taurine matrix - taurine and taurine ethyl ester
Nitrogen oxyde stimulators and vasodilators
These act vasodilating and contribute to achieving peak inflation of the muscles, improve the recovery of myocardial cells, support the recovery processes after exertion.
The complex includes:
Arginine alpha-ketoglutarate, arginine ethyl ester and arginine ĸetoisoĸappoat.
Citrulline malate, citrulline malate ester
Nitroglycerin
Energetics and nootropics
These provide you with the energy to train harder, more intensely and for longer.
Better focus, memory and cognitive-associative abilities, stimulate the receptors of the central nervous system.
The complex contains: L-tyrosine, beta alanine, citrulline malate, citrulline malate ester, methyl succinate (caffeine), niacin, evodiamine and vinpocetine.
Antioxydants
It has a detox and anti-inflammatory action, supports the activity of the cardiovascular and immune systems, optimizes and regulates metabolism.
The complex includes: extract of green tea (95% polyphenols), extract of grape seeds (95% polyphenols), N-acetylcysteine and R-alpha lipoic acid.
Electrolytes
These restore and maintain the mineral-electrolyte balance in the body during intense physical exertion, thereby supporting and optimizing the metabolic processes in the body. The supplement includes magnesium dihydrogen phosphate and magnesium hydrogen phosphate trihydrate.
"Expressorb" formula for improved absorption
Enhances the effectiveness of other active ingredients by optimising absorption processes in the body and providing the right conditions for their progress.
The complex contains sodium hydrogencarbonate, glucose polymers, inulin, narginine and bioperine.
No Flood 2.0 is sugar and aspartame free!
Directions:
Drink one serving (20 g) 30-45 minutes before workout on an empty stomach.
If you use Not Blood 2.0 as a creatine supplement, drink one dose 30 minutes before a meal, preferably in the morning before breakfast.
WARNING!
Keep out of reach of children!
Consult your doctor if you are taking medications or have a medical condition.
Details
Flavour
Blood Orange
Blue Guarana
Guarana
Orange
Orange Maracuja
Tropical punch
Barcode (ISBN, UPC, etc.)
728633108879
The pre-workout formula for muscle volume, strength, energy and mental focus.