Hyaluronic Acid with MSM - 120 capsules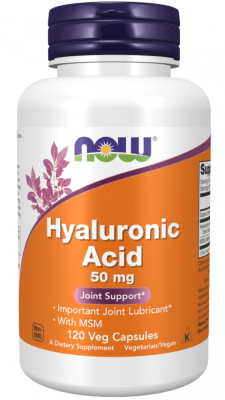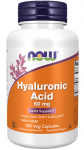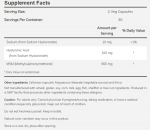 Add to Favorites
Your favourite products
Pack: 120 capsules
Manufacturer: NOW FOODS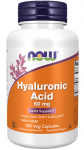 Hyaluronic Acid with MSM - 120 capsules
Add to cart
Information
Hyaluronic Acid is a glycosaminoglycan, a substance that binds to cellulose and elastin to form cartilage
Hyaluronic Acid not only helps to maintain cartilage, which makes joints strong and supple, but also increases the supply of synovial fluid, which serves as a cymes for the joints.
Hyaluronic acid is found in all tissues in the human body, and is associated with many important functions.
It helps in the removal of toxins from and the transport of nutrients to the body in places without the presence of cartilage.
It supports water vapour in other tissues in the human body. It is most abundant in the extracellular matrix, which is the space between the cells filled with fluid.
Hyaluronic Acid retains moisture in the extracellular matrix, keeping the collagen and elastin hydrated thus giving the body a more vital and fresh appearance.
Hyaluronic Acid is also used in wound care to hydrate the skin, to enhance the healing process of wounds.
The NOW product has added MSM.
This is a substance found in the tissues of all living things.
Foods that are not fresh do not contain MSM, it binds to moisture and evaporates with it.
Similar to Glucosamine and Chondroitin, MSM provides raw material for joints and cartilage.
Usage:
2 capsules, 1-2 times daily with food.
WARNING!
Keep out of reach of children!
Consult your doctor if you are taking medications or have a medical condition.
Details
Barcode (ISBN, UPC, etc.)
733739031570
Joint lubricant with added MSM for better performance. Restores collagen tissues in the body.