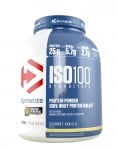 Add to cart
Information
Dуmаtіzе ІSO 100 2200 g contains 100% hydrolysed whey protein isolate
Unless you are professionally involved in medicine, you probably haven't come across a protein like this before!
Most companies "claim" to use pure whey protein, but once you choose Dуmаtіzе's isolate you will immediately see, taste and even feel the difference!
Advantages of hydrolysed ISO 100:
Stimulates the growth of lean muscle mass
Helps reduce the total body fat percentage
Can be used as a complete meal replacement
Contains 100% hydrolyzed whey isolate, 0% carbohydrates and 0% fat
This superpure whey isolate has been processed to achieve the utmost perfection - it is 100% hydrolysed, ready for immediate use and has undergone at least 5 different quality control steps.
One serving contains the amazing:
24 grams of protein
0 carbs
0 fat.
ISO 100 is an ideal protein source in low-carb diets!
Directions:
Mix one spoonful with 250-350 ml of water, juice or milk.
Stir well until completely dissolved.
Take 2-3 doses daily - before and after workout, also as a meal replacement.
WARNING!
Keep out of reach of children!
Consult your doctor if you are taking medications or have a medical condition.
Details
Flavour
Biscuits and cream
Orange ice cream
Smooth banana
Barcode (ISBN, UPC, etc.)
4029679997288
Whey isolate, maximally purified and easy to absorb by the body.