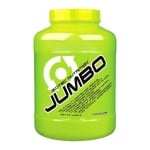 Add to cart
Information
Scitec created the formula that solved the problem of thousands of hardgainers.
The truth is not just in the calories..but in their excess... Jumbo is not just powder coated with sugar.
It's high in protein, and as much as 50 grams of it.
In addition, we are also removing a number of building blocks, namely the protein matrix, which will dissolve the proteins and create a favourable environment for the entry of food particles.
We also recommend a rich amino acid profile, with special attention paid to glutamine - presented in several varieties.
Last but not least, we should mention another plus of the gainer- the presence of a pre-workout blend: including arginine, ornithine and glycine.
Directions:
Take one serving (220 grams) after training. And on non-training days in the morning after training.
WARNING!
Keep out of reach of children!
Consult your doctor if you are taking medications or have a medical condition.
Details
Barcode (ISBN, UPC, etc.)
728633102853
High carb gainer for muscle mass gain.