Kelp - natural iodine 150 mcg - 200 tablets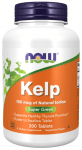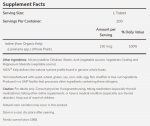 Add to Favorites
Your favourite products
Pack: 200 tablets
Manufacturer: NOW FOODS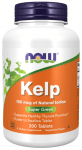 Kelp - natural iodine 150 mcg - 200 tablets
Add to cart
Information
What does the NOW - Kelp product contain
Kelp is the name of a group of algae that grows in shallow seaside areas of the seas and ocean.
NOW - Kelp is a good source of minerals, including potassium, magnesium, calcium and iron. This seaweed is also an excellent source of iodine, which is vital for thyroid function.
NOW - Kelp is rich in chlorophyll, amino acids, vitamins and minerals.
The product contains plant infusions that absorb toxins from the intestines and thus improve digestion, cleanse the kidneys and purify the liver.
Thyroid hormones are responsible for growth, for the strength and performance of the heart, for the health of the nervous system, as well as for the muscle strength and tone, and protein metabolism in general.
For whom is suitable NOW - Kelp
Kelp - Iodine is included in weight loss diets. Like most green foods, Kelp - Iodine contains vitamins and protein salts that are essential for a healthy diet.
Directions:
WARNING!
Keep out of reach of children!
Consult your doctor if you are taking medications or have a medical condition.
Details
Barcode (ISBN, UPC, etc.)
733739026804
Important for thyroid function.