L-CARNITINE 3000 - with caffeine and chromium - 500 ml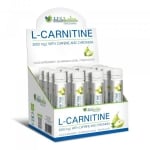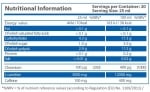 Add to Favorites
Your favourite products
Pack: 500 ml
Manufacturer: HS LABS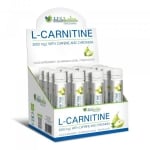 L-CARNITINE 3000 - with caffeine and chromium - 500 ml
Add to cart
Information
L-carnitine 3000 with added caffeine and chromium for powerful fat burning!
The liquid formula L-Carnitine 3000 + caffeine and chromium provides:
3000 mg. L-carnitine
100 IU chromium
100 mg caffeine
L-Carnitine is an essential amino acid that is needed in the breakdown of fat and its conversion into clean energy ready to be burned during physical exercise.
The main active ingredient in the formula, L-carnitine, is scientifically proven to enhance the breakdown of fat and its use for the body's energy needs.
Carnitine also helps to lower the muscle acidosis, so it protects them from fatty breakdown and creates optimal conditions for growth.
Last but not least, L-Carnitine supports optimal cardiovascular health!
Chromium accelerates fat burning, as well as muscle growth
The added chromium helps maintain healthy insulin levels in the body and better absorption of glucose.
This is particularly important for normal blood circulation and healthy levels of blood sugar.
The regulation of glucose tolerance ensures a constant and steady flow of energy production processes in the cells, forcing fat burning and enhancing protein synthesis in the muscles.
Caffeine gives energy and stimulates fat loss
Caffeine is the most well-known energy stimulant. As an ingredient in the HS LABS formula, caffeine:
Gives energy
Speeds up metabolism
Stimulates fluid excretion
How to use L-CARNlTlNE 3000:
One dose 15-20 minutes before workout.
In non-training days you can take in the morning on an empty stomach.
WARNING!
Keep out of reach of children!
Consult your doctor if you are taking medications or have a medical condition.
Details
Ingredients
Caffeine
Chromium
L-Carnitine
Barcode (ISBN, UPC, etc.)
3800234191010
Fat burning L-carnitine with added caffeine and chromium for even faster action