L-Carnosine 500 mg - 50 capsules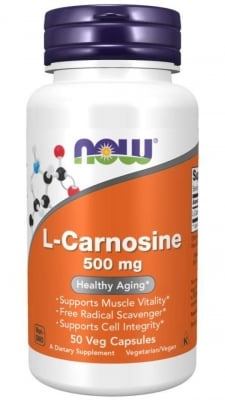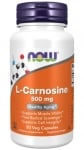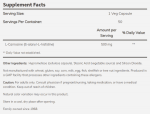 Add to Favorites
Your favourite products
Pack: 50 capsules
Manufacturer: NOW FOODS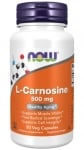 L-Carnosine 500 mg - 50 capsules
Add to cart
Information
L-Carnosine is defined as a dipeptide combining two amino acids - Alanine and Histidine
In its natural form, Carnosine is contained in high concentrations in the tissue of the muscles, which makes Carnosine an important source of muscle tone and strength.
Carnosine is also an antioxidant that stabilizes cell membranes
It protects them from the harmful effects of free radicals.
Due to the fact that Carnosine is mainly found in meat, its intake as a nutrient is particularly important for people, which do not consume beef, pork and chicken meat.
Carnosine is successfully used by athletes to improve aerobic and strength endurance, as well as explosive strength.
The product is recommended if you are looking for improved strength performance and for longer and heavier workouts.
How to use:
Take 1 capsule 1 to 2 times a day with food.
Certificates for quality:
WARNING!
Keep out of reach of children!
Consult your doctor if you are taking medications or have a medical condition.
Details
Barcode (ISBN, UPC, etc.)
733739000781
Strong antioxidant stabilizing cell membranes.