L-Cysteine 500 mg - 100 tablets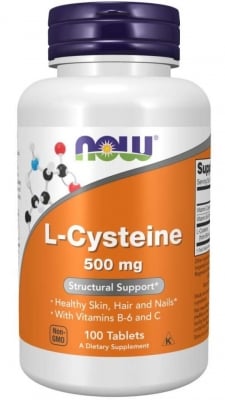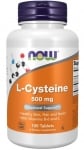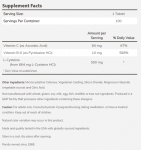 Add to Favorites
Your favourite products
Pack: 100 tablets
Manufacturer: NOW FOODS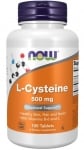 L-Cysteine 500 mg - 100 tablets
Add to cart
Information
What is L-Cysteine ?
L-Cysteine is a substitutable amino acid, which is contained in the protein beta-coenzyme, which is an essential element for the formation of fat, protein and iron.
Cysteine stabilizes the structure of this important protein and helps in the formation of collagen, which is essential for the health and elasticity of the skin, hair and nails.
Why is the amino acid L-Cysteine so important ?
L-Cysteine is necessary for the formation of the amino acid Taurine and is an important component for the formation of the powerful antagonist Glutathione.
L-Cysteine helps determinate the body of harmful toxins.
Cysteine protects the brain and liver from the destructive effects of alcohol, cigarettes, etc.
Cysteine improves the structure of the mucous membrane of the stomach and small intestine, which supports the digestive system against the harmful effects of taking various drugs (aspirin, etc.).
Cysteine is particularly important for the metabolism of various biochemical compounds.
This includes Coenzyme-A, Biotin, Lipoic acid and Glutathione.
L-Cysteine іѕ good tо bе соmbinеd wіth Selenium, vitamin B-6 and vitamin E fоr maximum effectivity.
Cysteine is an excellent supplement for achieving and maintaining ĸpacy and elastic hair, smooth and healthy skin, and healthy nails.
Usage:
One tablet 1-3 times daily.
Certificates for quality:
WARNING!
Keep out of reach of children!
Consult your physician if you are taking medications or have a medical condition.
Details
Barcode (ISBN, UPC, etc.)
733739000774
Enhances collagen production in the body. Has a strong detoxifying effect.