L-Tyrosine 500 mg - 120 capsules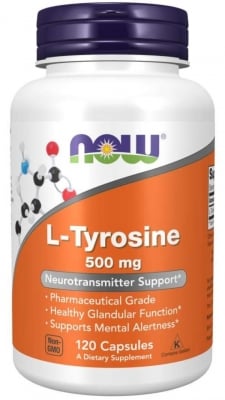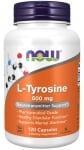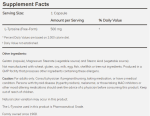 Add to Favorites
Your favourite products
Pack: 120 capsules
Manufacturer: NOW FOODS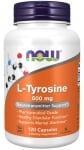 L-Tyrosine 500 mg - 120 capsules
Add to cart
Information
What you need to know about L-Tyrosine ?
L-Tyrosine is a substitutable amino acid that is a building block of protein.
L-Tyrosine is a carrier of the neurotransmitter "dopamine" and a carrier of the adrenal hormones epinephrine and norepinephrine.
The body can produce Tyrosine from the amino acid Phenylalanine.
L-Tyrosine can help athletes avoid overtraining.
It has the ability to reduce fatigue significantly.
People wishing to lose weight may benefit from taking L-Tyrosine because it has a beneficial effect on the production of thyroxine, the thyroid hormone, which in turn increases overall metabolism.
Foods rich in tyrosine are meat, seafood, wheat products and oatmeal.
Directions:
1 capsule 1-3 daily between meals.
Certificates for quality:
WARNING!
Keep out of reach of children!
Consult your physician if you are taking medications or have a medical condition.
Details
Barcode (ISBN, UPC, etc.)
733739001627
Replaceable amino acid, reduces fatigue, favorably affects thyroid hormone