Lutein & Zeaxanthin - 60 softgels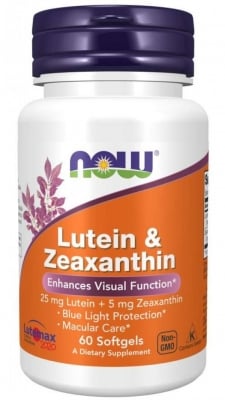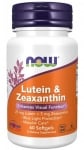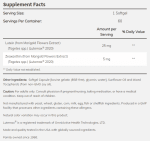 Add to Favorites
Your favourite products
Pack: 60 softgels
Manufacturer: NOW FOODS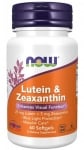 Lutein & Zeaxanthin - 60 softgels
Add to cart
Information
Lutein & Zeaxanthin - LUTEMAX - A combination of the two most effective ingredients for improving eye health.
Lutein plays a very important antioxidant and detox role.
Lutein is an effective neutralizer of free radicals and other harmful and toxic compounds and substances that enter the body.
Lutein accumulates in the eye in a certain way, as it is concentrated in the lens of the eye. It plays a great role in protecting the lens and reducing the risk of eye diseases.
For whom is Lutеіn nutrient supplement intended ?
Lutein is a suitable additive to food for people, aiming to improve the protective forces of the eyes, as well as the other organs in the human body.
Lutein is also suitable for the treatment of cardiovascular diseases.
Lutein - has the property of making the skin smooth and soft.
What is Astaxanthin ?
Astaxanthin is an antagonist of completely natural origin, which, due to its unique structure, provides an antioxidant action and has a number of beneficial effects for the body.
Astaxanthin, unlike other carotenoids, is not converted in Vitamin A and thus poses no danger of exceeding normal doses of Vitamin A when taken, which can reach toxic levels.
The effect of Astaxanthin
Due to Astaxanthin's ability to cross the blood barriers of the brain and retina, it has a strong antioxidant effect on the eyes, brain and nervous system.
It also has a significant anti-inflammatory effect in the body.
According to some studies, Astaxanthin also gives good results in the prevention of cancer diseases, but its most significant and well-documented properties are related to the protection of tissues in the body from oxidant damage.
Usage:
1 dragee per day with food.
WARNING!
Keep out of reach of children!
Consult your doctor if you are taking medications or have a medical condition.
Details
Barcode (ISBN, UPC, etc.)
733739030641
Complex of antioxidants to prevent eye diseases and improve vision