Methyl folate 1000 mcg - 90 tablets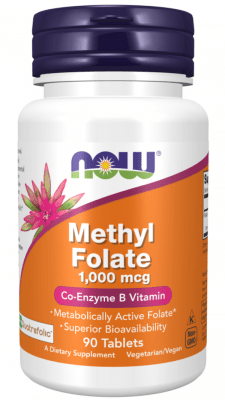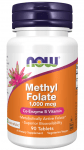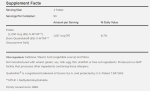 Add to Favorites
Your favourite products
Pack: 90 tablets
Manufacturer: NOW FOODS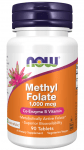 Methyl folate 1000 mcg - 90 tablets
Add to cart
Information
Methyl fоlаtе - Active form of Vitamin B9 (folate acid)
Folate is a water-soluble B vitamin that is often referred to as the "feminine" vitamin because of its essential importance to women's health.
Folate has a role in the development and division of cells.
Its intake during pregnancy ensures complete growth processes and normal development of the fetus.
Why should we take Methyl fоlаtе and not Folic acid ?
Methyl folate is the active form of Vitamin B9, which after intake easily crosses the blood-brain barrier and is absorbed much more quickly and efficiently compared to folate.
Of course, when taking Methyl folate, it matters what form it is in and for this reason we should note that Nоw Fооdѕ offer us Methyl folate [(6S)-5-MTNF or (6S)-5-methyltetrahydrofolate acid]. The patented form Quаtrеfоlіс® has the highest biological activity and a preserved structre, ensuring high efficacy and rapid absorption by the body.
Folate deficiency can cause a number of problems such as:
Fatigue and depression
Reduced immunity
Poor concentration
Anaemia
Sleep disorders
Hormonal imbalance
Usage:
1 tablet per day with food.
WARNING!
Keep out of reach of children!
Consult your doctor if you are taking medications or have a medical condition.
Details
Product type
Vitamin B
Vitamins and minerals
Barcode (ISBN, UPC, etc.)
733739004918
Folic acid in methyl form suitable for pregnant women