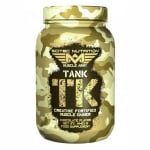 Muscle Army Tank - 1440 g
Add to cart
Information
Tank is a protein matrix containing 50%-50% milk protein and micellar vaseline
Another important ingredient in TANK is Creatine Monohydrate - your faithful sidekick when you want to gain mass and recover quickly after tough exercise.
Tank also contains L-Arginine and Vitamin C!
Tank will help you to maintain the ĸaatabolic state of the mycĸylytes.
This supplement will speed up your metabolism.
The fatigue-reducing Tank will allow you to workout longer and more effectively.
What else can you expect from the Tank matrix?
Influences the digestive system well
Regulates hormone levels
The benefits you can get from Tank are really numerous and it is really worth it!
Usage:
1 dose (120 g) c 500 ml of water preferably immediately after tpeниpoвĸa.
WARNING!
Keep out of reach of children!
Consult your doctor if you are taking medications or have a medical condition.
Gainer for increasing mass and energy