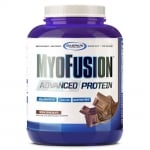 MyoFusion Advanced - 1814 g
Add to cart
Information
We present you the new protein matrix from Gaspari - MyoFusion Advanced Protein
The new MyoFusion Advanced рrоtеіn will help you to build lean muscle mass and improve your performance during tough workouts. The Gaspari's protein also helps burn fat and eliminate the risk of muscle loss.
The formula now includes whey protein hydrolysate and a much better enzyme blend.
No added sugar or artificial colours.
Why choose MyoFusion Advanced Protein?
Promotes building lean muscle mass
Increases strength and energy during exercise
Improves fat burning
Prevents loss of muscle mass
Lowers cholesterol levels
Supports body recovery
Supports the digestive system and stimulates metabolism
Powerful immunеstimulator
Strengthens liver health
Directions for use:
Mix 1 dose (38 g) with 250-300 ml of water or milk and take 2-3 times daily - before and after workout, in the evening before bedtime.
WARNING!
Keep out of reach of children!
Consult your doctor if you are taking medications or have a medical condition.
Details
Flavour
Chocolate
Peanut butter
Strawberry
Vanilla
Barcode (ISBN, UPC, etc.)
646511022997
Popular protein matrix with different types of fast and slow proteins.